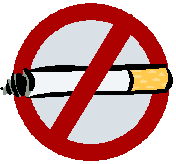 Celeste Students Attend
Drug Awareness Assembly
Fourth and fifth graders at Celeste Elementary and Celeste Junior High School students recently attended a drug awareness assembly. Anne Johns, a degreed facilitator, presented information on an anti-tobacco education program for youth. S.W.A.T. -- Smart Women Against Tobacco -- is a program designed to help kids steer clear of tobacco, a gateway drug. The program consists of videos, three-dimensional models, discussion and a unique pen pal program to help 4th - 8th graders stay clean.