Celeste FFA Booster Club and Animal Search and Rescue RADAR
Offer Low Cost Micro-chip, Dog Wash, and Vaccination Clinic

Recently, the Celeste FFA Booster Club joined our local RADAR Rescue team to offer a low cost microchip, dog wash, and vaccination clinic. The low cost micro-chip is a great way identify your pet if it is ever lost or stolen. Proceeds that the FFA Booster Club raised will be used to support and recognize all FFA students in many ways, some of which include attendance at state and national conventions, scholarships, and money for various AG projects to mention a few.

Janice and Ron Weldon and Rhonda Bender formed the RADAR organization after they participated in animal rescue operations following Hurricane Katrina. Radar is one of the dogs that they rescued and adopted after Hurricane Katrina. The group decided to form RADAR after they saw the shortage of professionally trained and skilled animal rescuers. Monies received from fundraisers such as this goes toward enabling the team to be available to continue receiving training and respond to animals in need during natural disasters. Radar attended the micro-chip clinic. The clinic was held at the Greenville Cavenderís . The Celeste FFA Booster Club plans to hold another clinic in the spring. For more information or to arrange a micro-chip clinic in your area, contact Animal Search and Rescue RADAR email jweldon13@hotmail.com.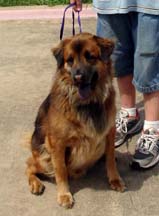 RADAR