Celeste Elementary School
Supports Virginia Tech
Hokie Hope Day

The Virginia Tech Alumni Association declared Friday, April 20th as a day of "Hokie Hope" (Hokies are the mascot at VT and orange and maroon are the school colors). They asked to have a national "Orange and Maroon Effect" day, so Celeste Elementary teachers and students wore orange and maroon to show their support in memory of the 32 victims of the deadliest shooting rampage in modern U.S. history.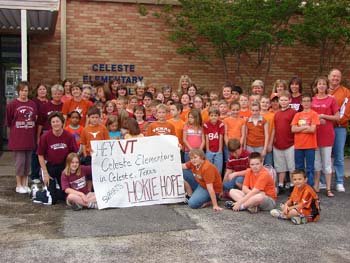 Click on picture to view larger image.