Over the years, Celeste has seen many victories in all areas of the athletic program. Recently, the Blue Devils had back-to-back state runner-up football championships in 2001-2002 and 2002-2003.

In 1992 and 1993, the Lady Devils were back-to-back state champions in basketball.

Many of our high school graduates have gone on to compete at the college level.

The Celeste coaching staff strives to instill honor, courage, integrity and honesty in all who participate in the athletic program.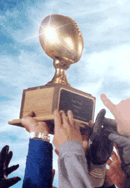 Winning has become a tradition at Celeste ISD. Blue Devils are famous for their will-not-quit attitude!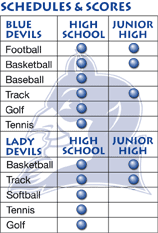 2002-2003
Football
State Runner-up
Basketball
District Runner-up
Boys & Girls
Baseball
District Runner-up
Track
1st, Boys & Girls
2003-2004
Football
District 17-A Champs
Basketball
District 18-A Champs
Boys & Girls

2004-2005
Baseball
District Runner-up
Football
District Runner-up
Golf
District Runner-up, Boys
District Champs, Girls
Track
Area Champs
Girls

2005-2006
Baseball
District Champs
Basketball
District 18-A Champs
Girls
Golf
District Champs
Boys & Girls
Softball
District Champs
Regional Champs