Celeste Junior High School
Veterans' Day Assembly
November 11, 2005
Click Here for Photos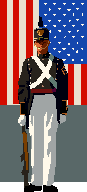 On Veteransí Day, November 11, 2005, Celeste Junior High School honored local veterans with a Veteranís Day Assembly. A Wall of Honor was created as a tribute to our veterans. The Wall of Honor contained stars which had the names of local veterans and their branch of service placed on them. Members of the Celeste Junior High School Student Council greeted guests from the community as they arrived. Students helped to pin red, white and blue ribbons on each veteran and asked them to sign the guest book. The audience stood in silence as U.S. Marine, Jose Osornio, proudly posted the colors of our flag. Student council president Andrea Lyday opened the assembly with a warm welcome. Celeste High School Seniors, Ashley Barth and Joshua Wright sang the National Anthem, and Carden Russell, student council vice-president, led the Pledge of Allegiance. Ashley Barth, accompanied by Marcia Fielden, sang America the Beautiful. Shelby Stubblefield, student council Co-president, gave a Veteranís Day Proclamation which was followed by Joshua Wright singing God Bless the USA. Sgt. Jared Barker, a graduate of Leonard High School, gave the address. Sgt. Barker served as a Marine Sergeant in Afghanistan during Operation Enduring Freedom. He also served as a sniper in Iraq. The students listened attentively as Sgt. Barker gave a brief overview of all the American Wars. He listed the number of dead and wounded in each war, and his speech truly brought home to the students and audience the price America has had to pay for freedom. Sgt. Barker discussed what it means to be a hero, and he praised the Veterans sitting in the audience as well as all who have served. He encouraged everyone to extend a hand of thanks at all times to Veterans who risked their lives to make a free and safe country in which to live. A moment of silence fell upon the crowd as Bailey Fraiser, student council secretary, recognized veterans who had given the ultimate sacrifice for our freedom. Marcia Fielden, Celeste music teacher, played Taps, and U.S. Marine, Jose Osornio, closed the ceremony by retiring the colors of our flag. The Celeste Junior High School Student Council would like to offer a special thank you to the Veterans and members of the community that attended the assembly, and look forward to seeing you again next year.